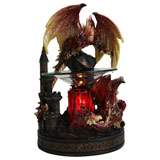 A red dragon tart burner, heated by a 35 watt halogen bulb, complete with dimmer switch, so you can control the amount of fragrance and light emitted into your home.
size 9" tall by 6" wide

EXTRA BULBS CAN BE PURCHASED ON OUR WEBSITE.

YOU WILL RECEIVE ONE EXTRA BULB WITH EVERY LAMP FREE!!!!
Price: $35.95